Link to : TFT Home Page
---
Sleeping Beauty
original pantomime by Mark Oldknow and Carla Quelch,
directed by Tim Hill.
---
The story is told in under 1mb of pictures - all on this page (please scroll down if necessary.
Click here to see some of the later, better, photos.
(It may take some time to load them all over a modem connection)

Our story begins 16 years ago,

at Princess Aurora's post Christening party;

interrupted by the arrival of Poison Ivy . . .

. . . who places a curse on Aurora.

Sixteen years later, there's some trouble with a parcel,

and all Simon wants to do is play.

Aurora loves Simon as a brother,

but where's the Cow?

BEHIND YOU!

The Prince is wary of his father's plan to marry a princess he's never met . . .

. . . and falls in love with Aurora on first sight.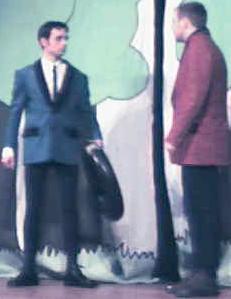 Meanwhile, Ivy's henchmen - Grin and Bearitt - have some trouble with a magic tyre,

which has been all 'round town on its own.

Elsewhere, in the forest Trotty has finally fallen for the Cow,

whilst back at the cottage . . .

. . . Aurora feel funny . . .

. . . and Simon tries to speak with his mouth full.

So they dance the Y-dance.

(A moment when the panto suddenly, and to everyone's surprise, went out of focus)

Simon and Trotty decide to decorate the cottage to cheer themselves up,

but the bucket has a hole,

and is pulled off trotty's foot.

At last. The paper begins to go up,

but Simon's getting covered in paste. . .

. . . in a bucket.

Ivy has plans to puncture Aurora,

and ties up Trotty and Simon.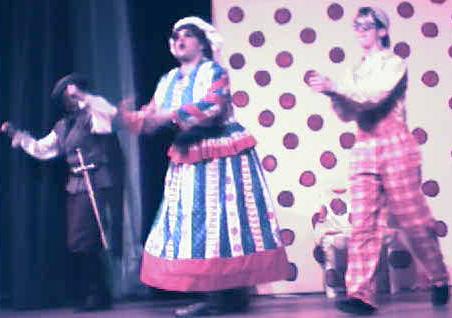 The Prince releases them,

the search goes on.

En route to the Castle, the cast feed a hungry mob.

Making a mess of their own picnic,

while Aurora's back at home.

Poison Ivy arrives in disguise and leaves a present.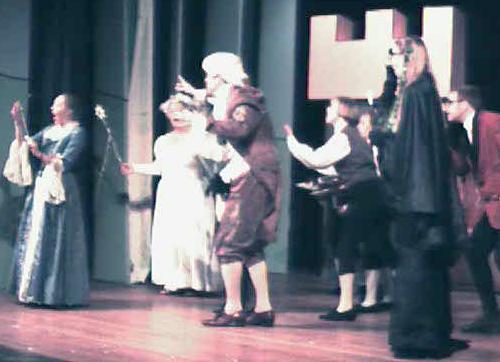 DON'T TOUCH THE NEEDLE!

Lost, deep in the forest,

and in the castle.

But finding Aurora, gives her CPR.

This really annoys Ivy, who suddenly finds herself powerless to do anything about it.

The Dame has a dream about the King,

and a stranger wins a prize.

Trotty tells another fishy tale,

and the Cow rushes in.

All waiting for Santa,

who was upstairs all the time.
---
Link to : TFT Home Page Contact Webmaster