"ON LOCATION AT BURNHAM BEECHES"
part of
South Bucks District Council Movie Mania Season
---
"a guided walk with a difference"

"quite a few of them are better than the real thing"

Slough Observer

-> Review <-
---
CELEBRATING 100 YEARS OF THE MOVING IMAGE
Tight Fit Theatre were asked by the South Bucks District Council to produce the entertainment elements of On Location at Burnham Beeches, a guided walk which took place during the evening of 1st August 1996 to celebrate the centenary of the cinema. This form of promenade theatre was performed to recreate short scenes from many of the well known movies which have been shot in these beautiful surroundings.
An audience of over 300, in groups, were led by the Beeches' wardens round a circular, one-and-a-quarter hour walk which paused at each location to learn what was filmed there and, in most cases, see a re-enactment.
For this, we had decided not to be brash in a disneyesque fashion, but to really try to portray the mood of the scene. Cameras, floodlights, and a gaggle of crew at each location shouting "lights, cameras, action" were not part of our plan: we wanted simply to stick to just the "action". Nevertheless, a video camera crew did accompany one of the groups, and we did need floodlights in a few places. With hindsight, and as the whole thing attracted such a huge audience, even more lights would have been useful: a learning point!
So, we re-enacted a number of scenes from films, both past present and future, in the woods on an English summer's evening. Thankfully, it did not rain. Will we do it again I wonder?
To keep their size down, the pictures accompanying the following items are black and white, although scanned from ordinary colour prints. I don't know what kind of machine you're using to view this page but use a screen mode which displays at least 16 grey scales for best results. Even if you are surfing at 9,600 bps and normally have graphics disabled, have a look anyway: this website has been designed with optimum access speed in mind, even over slower links.
---
AGATHA
This was the scene in a somewhat obscure film where a lake is dragged by the police to find Agatha Christie's body.

Policeman	Ben Cowburn
Inspector	Francis Jose

---
A TOWN LIKE ALICE
No, this wasn't filmed in darkest Malaysian jungles, but in Burnham Beeches. If you get a chance to see the film - just look for the beech trees! The scene from this film was the crucifixion by the Japanese of a prisoner of war.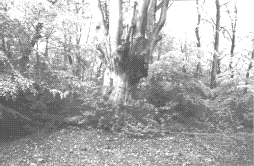 POW			Andrew Muir
 Nippon Soldier		John Eggleston
"Virginia McKenna" 	Carol Amer

---
GULLIVER'S TRAVELS
This movie starred Ted Dansen and was first broadcast in the UK during Easter 1996. We thought we'd inflict the Yahoos on the unsuspecting public. Not quite what happened in the film, but I hope the audience began to understand how gulliver may have felt, encountering wild humans in the land of the intelligent horse.

Yahoos:
	Spencer Egerton-Smith
	Shannon Hogan
	Row Lennon
	Jess Minikin
	Louise Sanders
	Jonathan Sedassy
	Helen Wallace
	Jenny Whatley
	Max Whatley
and	Paul Wilson

---
THE CRYING GAME
The sequence from this movie ends with one of the two characters being squashed by a passing truck. Needless to say, we did not reproduce the entire sequence, though we did have them running through the woods shouting and shooting at each other. Fortunately, we warned the police in advance. We did not want them to think there was something fishy going on.

Jody		Nisha Anil
"Stephen Rae"	Richard Morris

---
ROBIN HOOD, PRINCE OF THIEVES
After a battle, many of Robin's men were laid to rest at the foot of this tree.
We had to build the grave mounds from indigenous soil: as this is a nature reserve we could not import any from outside the fence.
Attendant	Matthew Wilson
Grieving woman	Jackie Lloyd-Jones
Grieving woman	Helen Salisbury
---
IVANHOE
This location has been used for many movies. It is probably most well known as the site of the tree village in Robin Hood, Prince of Thieves.
It may be of interest to note that Burnham Beeches impose restrictions on how things may be attached to the trees. The RHPOT village in the movie was exactly as it appeared: held up by ropes alone.
This was the action venue, as it just been used for the filming of the BBC's new production of Ivanhoe. We be depicting broad-sword and quarterstaff combat as a typical example of what has taken place at this location. By some amazing coincidence, we discovered after the event that, when they filmed Ivanhoe, guess what: two fights, one with swords and the other with quaterstaffs. Spooky.
Fighters:
	Mark Oldknow
	Mike Geary
	Christelle Docking
	Lucy Costantini
---
PRINCESS BRIDE
This hilarious film had many of its exteriors filmed in Burnham Beeches. Not least was the tree with a door in it! Sadly, the actual tree in question was false and has long since been destroyed. It was indistinguishable from the real pollarded beeches, so we used a real one instead!
Featuring:
	David Farey
	Steve Docking
---
THE WIND IN THE WILLOWS
This new film, starring many of the old Monty Python team, follows the original story closely. At one point (also shown in promotional clips from the film) Ratty sits in the back of Toad's car and is caught by a low branch and ends up sitting in this tree! (Albeit the tree was fitted with a longer - false - branch for the movie).
As a matter-of-fact the scene where the car crashes into a tree was also shot in the Beeches, at the Ivanhoe location.
Ratty was played by Pilsbury
---
KING RALPH
This movie saw John Goodman take up the role of the British Monarch and it was at this location he was taught to use a twelve bore shotgun.
We ended up not using this idea as to have done so would have caused logistical problems with our audience.
---
FIRST KNIGHT
Much chasing took place in Burnham Beeches, not to mention falling from carriages, and in this location we had considered the idea of having a mad galloping axeman. Sadly, the layout of the paths would have meant him trampling onlookers underfoot. The picture actually shows part of the route the audience took.
However, we did manage to relocate to what was, in the film, the kissing tree.
Launcelot 	Clym Dodds
Guinevere	Carla Quelch
---
ROBIN HOOD, PRINCE OF THIEVES (again!)
This was the avenue used to hold the wedding ceremony.
	Marion	Karen Hilbarn
	Robin	Daniel Francis
	Tuck	Chris Lambert
	Guests:	Matthew Binns
		Tamari Lee
		Shirley Payne
		Natana Sandy
		Bianca Williams
---
"ON LOCATION AT BURNHAM BEECHES"
	For Tight Fit Theatre:

	Producer	Tim Hill
	Designer	Karen Ogborn
	Directors	Mark Oldknow
	and		David Farey
	Assistants to the Producer:
			Lizzie French
			Katie French
			Ally Hill
			Martin Ruff
		and	Robert Zarawacz
---